Sometimes when you send emails, they will be returned by a mail server as Undeliverable. These are referred to as "Bounced Emails. The most common reason an email will be bounced by a mail server is that the email address you're attempting to reach is incorrect.

When you receive a bounced email in your Inbox, if it is not automatically detected and categorized as a Bounced Email, you should manually mark it as 'Email Bounced'.

If you're not sure which Sequence the email originated from:
1) Browse to the "Contacts" menu: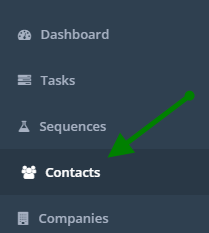 2) Use the "Search" field to enter either the name or email address of the Contact and either press "Enter" or click the Search icon.


3) After you find the Contact, click the "Edit" icon to the left of their name. Next, click the "Sequences" tab to identify any Sequences the Contact is part of and their current Status in that Sequence.



From this menu, you can click on the link to the Sequence(s) the Contact is in and follow the steps in the next section.
If you know which Sequence the Contact was in:
1) Enter the Sequence and click on the "Pending Replies" button in the top right.



2) Scroll down and find the Contact in the Sequence either by name or email address. You will most commonly find this Contact in Step 2, but you may find it in later Steps if several emails have already been sent. Next to the Contact, click the "Actions" button and choose "Mark as 'Email Bounced'.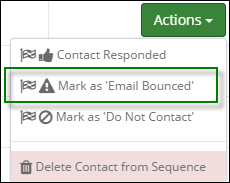 This will mark the email address for this Contact as invalid and stop the Sequence from sending further emails to that email address. It also updates the Performance Metrics to indicate that a Bounce Email was found.

3) It would be helpful if you forwarded the bounced email to support@bluetick.io so we can analyze the headers to help understand why it wasn't automatically detected as a bounced email.